FEATURED NEWS

25th Anniversary Xena Book


AUSXIP Publishing will be publishing a book called XENA: THEIR COURAGE CHANGED OUR WORLD - How Xena: Warrior Princess Changed Lives & Inspired Generations
Submit Your Story


100% of the royalties from this book will be donated to Starship Foundation



ANNOUNCEMENT: With Xena's 25th Annv. in 2020, I've been planning a book with YOUR stories about how #Xena changed our lives. Would you like to submit your story? Submission form soon. 100% of Royalties will be going to @captainstarship more info https://t.co/gKuYhlagCF pic.twitter.com/GoiXUsTJyM

— AUSXIP Network (@ausxip) September 20, 2018
Subscribe to the
AUSXIP Newsletter!
AUSXIP NETWORK - UPDATING THE XENAVERSE SINCE 1996!
- Created and Maintained by MaryD (C) 1996-2018 AUSXIP Network
AUSXIP Publishing Annoucement:

Xena: Their Courage Changed Our World - Xena's 25th Anniversary book about the extraordinary little show that Changed Lives and Inspired Generations
22 September 2018
Xena: Their Courage Changed Our World Book News
Coming soon will be a dedicated page related to the upcoming Xena's 25th Anniversary book "Xena: Their Courage Changed Our World" which I announced on 20 September. It will be published by AUSXIP Publishing on September 4, 2018.

Renee O'Connor
Theatre
Interview
20 September 2018
MAJOR ANNOUNCEMENT
AUSXIP Publishing will be publishing a book called XENA: THEIR COURAGE CHANGED OUR WORLD - How Xena: Warrior Princess Changed Lives and Inspired A Generation.
- Basically how this one little show changed YOUR life.
Publication is September 4, 2020 and you will have time to submit your story. It's a book about YOU the fan and the friendships you've made, the life changes that were made etc. 100% of the royalties from this book will be donated to Starship Foundation because the message of this show has been the Greater Good and what better way than to donate to Starship in honour of the show? Are you interested?
You can now submit submit your story http://ausxip.com/news/xena25year/ The book will also have a memorial section for those we have lost over the years.
Battle on and share the news please! Thank you!
Xena's 25th Annivesary is coming up in 2020 and that means Creation may be gearing up for a 25th Anniversary convention

MaryD's Blog
Supergirl
Murphy Brown

Upcoming TV Shows
Movie News
19 September 2018
Supergirl
Doctor Who
Murphy Brown
Greys Anatomy
Emmy Awards
Movies - Captain Marvel
Feast your eyes on this! Yes, when? MARCH 8, 2019!
Higher. Further. Faster. The first teaser trailer for Disney/Marvel's Captain Marvel, the hugely anticipated female-led MCU entry, has dropped. Brie Larson stars as Carol Danvers who becomes one of the universe's most powerful heroes when Earth is caught in the middle of a galactic war between two alien races, and she finds herself and a small cadre of allies at the center of the maelstrom. The film is set for domestic release on March 8, 2019 with overseas rollout beginning two days earlier on March 6. Read More (but watch the video first)
18 September 2018

Supergirl
16 September 2018
Adrienne Wilkinson
Renee O'Connor
On Cover Road (Theatre)

Lucy Lawless
15 September 2018
To everyone in the path of Florence - please stay safe. We are keeping you in our thoughts!
13 September 2018
MaryD on Instagram
Renee O'Connor
"All right this is without a doubt the CUTEST Photo Op EVER.
Lucy and Renee with Little Xena and Little Gabrielle (Lucia's artworks come to life!).
11 September 2018
In memory of those who perished on 9/11 (and to those first responders who heroically went into burning buildings, to the doctors, nurses, police and all the other men and women who assisted).
Little Xena and Gabrielle 9/11 Memorial created by Lucia Nobrega in 2001.
10 September 2018
Renee O'Connor
Upcoming Events
Renee Adopts!
MaryD's Blog
The Holocaust
Mind power in Auschwitz - and healing decades later. Mind power in Auschwitz - and healing decades later. Her mother's wisdom helped Edith Eger create a happy inner life in Auschwitz - but true healing meant going back there. Edith Eger was 16 years old, crammed into a cattle truck, human cargo from Hungary headed for Auschwitz, when her mother gave her the advice that shaped her life. For most of the journey, her mother hadn't said much, hadn't cried or complained, but had instead gone inside herself. "That night," says Eger, "she turned to me and said: 'Listen. We don't know where we're going. We don't know what's going to happen. Just remember, no one can take away from you what you've put in your mind."
I survived the Warsaw ghetto. Here are the lessons I'd like to pass on by Stanisław Aronson. I'm 93, and, as extremism sweeps across Europe, I fear we are doomed to repeat the mistakes which created the Holocaust...
New Movie To Watch Out For...
I was listening to a radio interview on Sydney radio today with Noni Hazelhurst (I LOVE Noni) and she's talking about her new movie "Ladies in Black" which is set in a department store in 1950's Australia. Sounds like a fabulous movie and something I touch on my fiction series as well especially in my latest "Mabel of the Anzacs". Can't wait to see this! Watch the video!
09 September 2018
AUSXIP Charity Auction
Hey guys have a guess what I was doing on the 7th September? It was STARSHIP AUCTION SPREADSHEET TIME! Starship sent over their spreadsheet of payments. We had some issues with the donation form on Starship. It kept crashing. There is a reason the Starship donation form fell over - the Xenaverse crashed another server :) (the donation form was a little iffy lately whether it went through ok or it stalled but we're getting that sorted out BUT apparently, everyone has figured it out) Does this count as a the Xenaverse crashing another server? I'm calling it - we did :)
Good news: $11K of the winning bids have already been donated and we are waiting on the last remained $2K to come in. Saying that Starship is overjoyed by this outcome is an understatement.
Added images of Lucy and Renee in the Q&A
Added images from Social Media
Added video of full Q&A Panel
Added video highlight of ROC and LL singing Deep In The Heart of Texas
Added video highlight of Lucy doing the Xena Yell
Added video highlight of LL and ROC being asked About Being The Better You

MaryD's Blog
New Art: A Special Someone To Grow Old With…
Sep 9, 2018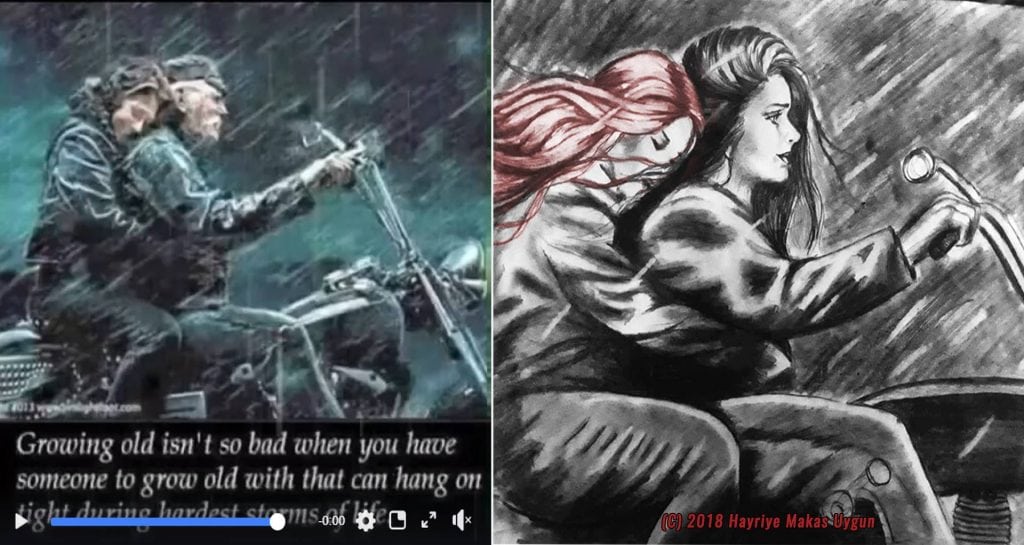 A few days ago I saw this amazing photo of an older couple - a man and his girl on a bike with the words:

"Growing old isn't so bad when you have someone to grow old with that can hang on tight during hardest storms of life."

The words moved me and I mentioned to my book club group that I would love to see something like that for my characters of Eva and Zoe. You know what they say about putting it out in the universe. Well my friend Hayriye Makas Uygun decided to surprise me and create an Eva and Zoe version!

I LOVED THIS so much. May you have that special someone to grow old with who hangs on tight even through the hardest of times.
08 September 2018
I'm going to let the following tweets from my ausxip and lucylawlessnet accounts do all the talking.... heh
#ReneeOConnor wins the internet today and the #Xenaverse melts. Here she is at the Salt Lake City Comic Con teaching a young fan how to hold a sai. Yeah. Images courtesy of Heroes for Hire Instagram account: https://t.co/Ez1gtwt996 #Xena #SaltLakeComicCon pic.twitter.com/uQNTc2uDdl

— AUSXIP Network (@ausxip) September 8, 2018
#Xena Lives - Lucy Lawless wears her iconic Xena face and doesn't it make you want to wish for a #XenaMovie or #XenaRevival - photo is from Epic Photo Ops at the Canadian fan Expo con last weekend. That face reminded me of the Xena face in the Xena pic pic.twitter.com/eIZ8MSTLoT

— AUSXIP Lucy Lawless (@lucylawlessnet) September 8, 2018
06 September 2018
Renee O'Connor
Renee has posted on her Instagram account that this new theatre show is "edgy"

Convention Update
Lucy and Renee attended FanExpo in Canada and I'm WAY behind in the images/video roundup due to the Auction. Will be posting images/video soon.
There next stop is FanX Salt Lake City Comic Con on September 6 to 8, 2018. Tickets for Photo Ops, Q&A and Autographs are here:
Xena Cast News
05 September 2018
I have updated the Xenite Memorial to include Baermer.

04 September 2018
Happy Xenaversary everyone!!!
Auction Update:

With the support of the Xenaverse, actors such as Renee O'Connor, Lucy Lawless, Adrienne Wilkinson and many others, we have raised (tentative total, not counting any additional donations) $13,293.97 NZD. That brings our combined total for all auctions held since 2006 to $198,293!
Just an amazing number. Xena's legacy has been to help others and to do it for the Greater Good. On her 23rd Anniversary, the Xenaverse has come together and created something special. Without your support, this auction would not have gotten off the ground in 2006 and continued since then.
I have informed Starship that a whole lot of money is heading their way! THANK YOU everyone who supported, who bid and who won! BLESS YOU ALL!
Thank you also goes to my team who are EXTRAORDINARY. Without them, it would be impossible to have this auction.

HAPPY BIRTHDAY TO OUR WARRIOR AND HER BARD! 23 Years ago a show was born and changed our lives!
I will have more to say about this once the Starship Auction is over....
The 11th AUSXIP Starship Charity Auction is ENDING in a few hours!
How is everyone on #Xena's 23 year Anniversary? Today in honor of Xena's birthday we continue one of Xena's enduring legacies - #TheGreaterGood the AUSXIP Charity Auction ends in a couple of hours! Battle on Xenites! Hail to our Warrior and her (Warrior) Bard! pic.twitter.com/rWz9d5roAE

— AUSXIP Network (@ausxip) September 4, 2018
03 September 2018
The 11th AUSXIP Starship Charity Auction is ENDING tomorrow!
Xenite Memorial
It is with great sadness I report that we have lost an Amazon sister. Baermer, creator of some of the most extraordinary stories and awesome lady has unexpectedly has passed away. I will be updating the Xenite Memorial soon.
It is great sadness I report that we lost another one of our Amazon sisters. Baermer has passed away. Her work can be found on AUSXIP https://t.co/I2B8RU4LMx - I will be updating the Xenite Memorial Soon. In honor of Baermer, I give you Xena's Burial song. pic.twitter.com/x3s2QxX2id

— AUSXIP Network (@ausxip) September 4, 2018
01 September 2018
The 11th AUSXIP Starship Charity Auction is now LIVE!
100% of money raised goes directly to Starship. Let's raise a hell of a lot of money for Starship!
Thank you for all your support.
You have 4 days to bid on 324 items - if you don't want to bid but want to be a part of the auction, we have donation only bids starting from $5 Check out the auction categories!
Register here: http://charity.ausxip.com/register
and if you still have questions about the auction Contact MaryD
31 August 2018

AUSXIP Starship Auction Update
You can now download the 2018 AUSXIP Charity Auction Catalog (Updated to include the late entry items!) We have 324 items.
http://charity.ausxip.com/2018AUSXIPAuctionCatalog.pdf

Register here: (you MUST confirm your email address before you're allowed to bid) - https://charity.ausxip.com/register
FAQ Here: http://ausxip.com/auction/auction2018.php

Xenaverse News
28 August 2018

MaryD Reviews
Supergirl
26 August 2018
The AUSXIP Starship Charity Auction Catalog is now available. You can download the catalog that has all the auction items (320) with the image, auction ID, auction link to individual items. Peruse the catalog, bookmark what you want and go and bid on it starting September 1.
AUSXIP Charity Auction: Together We Can Make A Difference
Download from here: http://charity.ausxip.com/2018AUSXIPAuctionCatalog.pdf
25 August 2018
My new novella "Enemy At The Gate" is part of an anthology called "The Darkest Hour" Tales of WW2 Resistance.
Profits from the sale of this book will be donated to the United States Holocaust Memorial Museum in Washington DC.
What is my story about?
It's 1941 and the shadow of tyranny has laid claim to Zoe Lambros' Greek homeland. The only way to freedom is to resist. Zoe is a determined thirteen-year-old who wishes to join in the fight to free Greece from occupation, and she gets that chance when she joins the Greek Liberation Army in a clandestine operation that sets in motion an explosive confrontation between the occupying Italians, the Germans and the Greek Resistance. For Zoe, there is no turning back, because what's left is either freedom or death.
You can pre-order the book from iBooks here: https://itunes.apple.com/us/book/id1408712494
Available on Amazon from October 29, 2018.
The official site for The Darkest Hour is here: https://thedarkesthouranthology.com/
22 August 2018

AUSXIP Charity Auction
If you have registered for the auction for the first time, please check your email from AUSXIP to confirm your registration. If you haven't received an email, please contact me because you won't be able to bid on the auction items if you haven't confirmed your email address.
We have less than 11 days until the auction!
I will be releasing a Catalog of items (PDF format) that will list the pic of the item, the link to the auction page, the auction ID number. You can then peruse at your leisure before the auction and bookmark the item you want! That should be out in a few days. With 300 items you may miss a treasure that you want! So watch for the AUSXIP Charity Auction Catalog in a few days!
MaryD's Reviews

Supergirl
Brent Makes Way For Bruce...
I was saddened by this news. Brent (Commander Data on Star Trek: TNG) was scheduled for a ongoing role in Season 4 but has to pull out due to a family issues. His replacement is another favourite of mine - Bruce Boxleitner (Captain Sheridan from Babyon 5). Before AUSXIP was born in 1996, I had a John and Delenn shipper page called The John and Delenn Information Page (see I wasn't that inventive when I came up with the Australian Xena Information Page). John and Delenn were INCREDIBLE characters. If you haven't watch Babylon 5 - YOU MUST. It is unbelieable and it also stars Claudia Christian as God...no...heh, inside joke. Claudia stars as Commander Susan Ivanova. SERIOULY cool. The whole cast of Babylon 5 were AMAZING. Fantastic show. Now getting back to Supergirl, here's the article about Brent being replaced...Supergirl Recast: Brent Spiner Replaced with Bruce Boxleitner Due To Family Issues
Crossover News
Upcoming TV
Selma Blair Joins Katee Sackhoff in Netflix's Space Drama Another Life Selma Blair is booking a flight to outer space: Selma will recur in Netflix's upcoming sci-fi drama Another Life, headlined by Battlestar Galactica's Katee Sackhoff...In the 10-episode series, astronaut Niko Breckinridge (Sackhoff) and her young crew investigate the genesis of an alien artifact.
20 August 2018
Renee Donates To AUSXIP Starship Auction!
Got a nice surprise today. Renee was at the Michigan Comic Con and saw a poster than at artist was selling at the con. Renee bought, autographed (and the artist autographed it as well) and then proceeded to donate it to the AUSXIP Starship Auction! Renee also gave us the Marriage Equality poster when she attended another convention which she is also bought, autographed and donated to us.
Thank you Renee!!!
Register to bid on these and another 300 items!
100% of the money raised goes to Starship Foundation http://charity.ausxip.com/
Upcoming Shows
Wynona Earp
Books
19 August 2018

Renee O'Connor
Michigan Comic Con
Supergirl

Video
Press
New Images
Movies
18 August 2018
The world is mourning the passing of the legendary Queen of Soul, Aretha Franklin. Aretha passed away on August 16.
Rest in peace, Aretha, thank you for the music.

Renee O'Connor
Convention
Watch The Sky
Theatre

Lucy Lawless
Supergirl
Murphy Brown
Batwoman

The Marvelous Mrs. Maisel
16 August 2018
MaryD's Blog
Upcoming
Star Trek: Discovery
14 August 2018

Xena Press
Ailing Legends
Supergirl TV
Supergirl Movie
Gal Gadot
13 August 2018
AUSXIP Charity Auction Updates
I'm going to have a catalog of items (with pictures - ooh we are going fancy) and the item number and link to the auction page will be available (even before the auction goes live so you can bookmark it). There are 300 items being auctioned off! I'll soon have the catalog up on the site.
Remember folks if you haven't registered before on AUSXIP Charity, now is the time to do it if you want to bid on the auction items. Registration is a manual process - you register, you respond to the confirmation email (contact me if you don't get an email) and then I check your registration and approve. Register before September 1 and make my life a little easier and yours (because you won't be stressing out whether I've approved you in time. Win/Win.
Register here: http://charity.ausxip.com
MaryD's Blog
Two things happened today that would be quite special.
My box of my new novel "Mabel of the Anzacs" arrived! Lots of love went into this novel from everyone: writer (me), editor, beta readers, proofreaders. It takes a village to create a novel.
Click here to view video: The photographer Derek Cutting from Firemate Photographic created this video. Derek is a new friend who is a phenomenal photographer. He also is the owner of the War Bike (aka Zoe's motorcycle "Mabel") I did suggest to Derek that he rename his War Bike to Mabel but don't think that will happen! Check out the video, I was chuffed. I contacted Derek some time ago to get permission & license one of his images for the cover of my book.
Girl Power News
TV
Movies
10 August 2018
AUSXIP Charity Auction Updates
How many items do we have on the AUSXIP auction? Well as of right now 250 but that will rise over the coming days. Prices start at $5 & up AND if you want to donate and not bid, u can "buy" a donation only pack to be included in the final tally. So far, since 2006 we have raised $185,000. I like round numbers so let's try and get that figure up to $200K and more.
I posted this to AUSXIP Twitter and Facebook. After this message went out I got a message on FB that a generous soul (who I will name if they allow me to) has donated a replica sword to add to the weapons cache we have for the auction!! I love the Xenaverse. I love Xenites. Big hearts.
AUSXIP @captainstarship Auction: We have a Xena chakram autographed by #reneeoconnor, a #Xena breast dagger autographed by @RealLucyLawless and Renee, we have an authentic prop Xena scabbard used on the show autographed by Lucy Lawless. Starts September 1! https://t.co/yJAIqbue3W pic.twitter.com/G3BIly0cQz

— AUSXIP Network (@ausxip) August 9, 2018
09 August 2018
MaryD's Blog
08 August 2018
Xena
Renee O'Connor

Lucy Lawless
My Life is Murder
Ash Vs Evil Dead

BatWoman TV Series
05 August 2018
I am so EXCITED by this news. I'm so excited that I can't stand it. Patrick Stewart is coming back as Jean-Luc Picard in Star Trek!
Lucy Lawless Video
This is just BRILLIANT
The video is part of an exhibition at the Auckland Museum. Read this article regarding this doco
03 August 2018
The AUSXIP Girl Power site has been redesigned to make it easier to find news related to it's genre
MaryD's Blog
In my novels I usually feature Greek or Australian dishes. Here are two Greek desserts with the recipe:

Renee O'Connor
Supergirl
My fandoms are colliding with Brent Spiner on Supergirl!
POSE
Are you watching POSE? It's BRILLIANT
New Shows
This one reminds me of Rob Tapert's Pleasuredome...
01 August 2018
Renee O'Connor
New Theatre Show
Teaching Acting Classes
Lucy Lawless
Supergirl
Grey's Anatomy
Star Trek: Discovery
31 July 2018
Convention Updates
Renee O'Connor
Lucy Lawless
New Show for Lucy
Gilmore Girls
29 July 2018
MaryD's Blog
Sorry for my absence, I've been in the final throes of getting my book "Mabel of the Anzacs" ready for publication! Fussing over it like a mother hen!
The print edition is now available from Amazon and other bookstores from July 31.
The ebook is available to pre-order (Available from July 31) on Amazon, ibooks, Kobo, Nook etc

Lucy Lawless
Supergirl
Madam Secretary
23 July 2018
Supergirl Season 4
Supergirl Video
Supergirl Press
Wynonna Earp
21 July 2018
MaryD Fiction
18 July 2018
Killing Eve
NCIS
The Crown
17 July 2018

Renee O'Connor
Adrienne Wilkinson
Supergirl
Batwoman TV Show
The Crown
Upcoming
14 July 2018
SDCC Update

MaryD's Blog
History
Books
Supergirl
Upcoming TV
11 July 2018
MaryD's Blog
Xena
Renee O'Connor
Reminder
Fandom
TV
09 July 2018
MaryD's Blog
Xena
Convention News
Lucy Lawless
Wonder Woman
Captain Marvel
House of Cards
03 July 2018
Xena
Lucy Lawless
Upcoming TV / Aussies
Star Trek
Upcoming TV / US
01 July 2018
Xena
Renee O'Connor
Upcoming
29 June 2018
Xena FanFic
Legends Legacy - #13 - Cupid's Arrow by T. Novan Every parent's worse nightmare - their child grows up and dates. What happens when Xena and Gabrielle's daughter, the new Queen of the Amazons, falls in love (with a little help from Cupid and a stray arrow)? A rollicking good story.
Xena Episode Replay & Art
The Xena Scrolls (Season 2, Episode 10)
In Macedonia, 1942, a descendent of Gabrielle, Dr Janice Covington, teams up with a descendant of Xena, Melinda Pappas, and a descendent of Joxer, Jacques S'Er, to track down the ancient Xena Scrolls. In doing so they unleash the imprisoned God of War, necessitating the spirit of Xena to take over Melinda's body and stop him.
Art by MaryD
Wynonna Earp
Killing Eve
Have you seen "Killing Eve"? It's a FANTASTIC show with Sandra Oh and Jodie Comer. MUST SEE TV.
Aussies: Killing Eve will air on ABC from 8:30pm Friday July 27 - it was previous available on streaming service iview
A Discovery of Witches
TV
Movies
'The Bookshop' Opens New Trailer As It Heads For August Release - A new trailer has dropped for the upcoming film The Bookshop which was the winner of three Goya Awards — Best Film, Best Director and Best Adapted Screenplay — and stars Emily Mortimer, Bill Nighy and Patricia Clarkson. The film, set in 1959 England is about a free-spirited widow (Mortimer) who risks everything to open a bookshop in a conservative East Anglian coastal town. While bringing about a surprising cultural awakening
28 June 2018

MaryD's Blog

Hot New Show - Pose
Hot New Show: POSE OOOH New show to watch: POSE. Pose is a visually stunning and emotionally wrenching look at the lives of queer people of color in 1980's NY - tackles difficult realities but refuses to give in to tragedy and instead uplifts, giving equal times to the joys of dance, first loves, ballroom victories, and the love shared by found families
Supergirl

Wynonna Earp

Upcoming TV Shows
26 June 2018
MaryD's Blog
Working on my new novella "Enemy At the Gate" which is part of a multi-author anthology about World War 2 Resistance - The Darkest Hour. I'm thrilled & honoured to be part of this amazing group of writers. Can't wait to read their stories. I made a video trailer for my story: Enemy At The Gate
Lucy Lawless
Supergirl
One Day At A Time
Star Trek
Upcoming
---