FEATURED NEWS


25th Anniversary Xena Book
AUSXIP Publishing will publish a book called XENA: THEIR COURAGE CHANGED OUR WORLD - How Xena: Warrior Princess Changed Lives & Inspired Generations
on September 04, 2020
Submit Your Story
Enter Art Competition
Subscribe to the
AUSXIP Newsletter!
AUSXIP NETWORK - UPDATING THE XENAVERSE SINCE 1996!
- Created and Maintained by MaryD (C) 1996-2018 AUSXIP Network
Follow Us on: Twitter * Facebook * Instagram * YouTube
---
21 October 2018
Xena's 25th Anniversary Book
The video section of the site has been created and I've started to add videos submitted to the Video Comp.
Xena Submitted Videos
MaryD's Blog
Supergirl

Doctor Who
Images
Murphy Brown
TV News
Movies
19 October 2018
Xena Reunion...
Supergirl

Images
Video

Killing Eve
18 October 2018
Xena Comics
Xena Art

Xena Fanfic of the Day

Renee O'Connor
On Clover Road Theatre Show

Erin Cummings
Supergirl

Doctor Who
17 October 2018
Supergirl
Star Trek: Discovery
Doctor Who
I actually (somewhat) agree with this rating (from bad to great) instead they have Tom Baker at #2 and David Tennant at #1. In my top 3 I would have to say Tom is #1, David #2 and Matt #3. No one beats Tom Baker IMO. Every Doctor Who, Ranked From Worst To Best
Upcoming - TV
16 October 2018
Lucy Lawless
Supergirl
Video
Press

Doctor Who
Episode Updates
Press
A Place To Call Home
13 October 2018

MaryD's Blog
Mabel of the Anzacs by MaryD
My book "Mabel of the Anzacs" has been discounted to 99c. Check it out. The book will be a upcoming play performed by Sherri's Playhouse radio show in November.
Family isn't whose blood runs in your veins...it's a story about a friendship of 18 year old Zoe and a former WW1 nurse.
Renee O'Connor
On Clover Road Theatre Show
Instagram
MaryD Books & Reviews Blog Links
Supergirl
Supergirl is back for Season 4 on Sunday and the reboot of Charmed follows right after.

Doctor Who

My Life Is Murder / Lucy Lawless
Recap... My Life is Murder with Lucy Lawless now has a dedicated

FBI (New Show)
If you are on the fence about the new Dick Wolf show "FBI" let me tell you, the second episode is better. Why? Sela Ward has replaced Connie Nielsen (Queen Hippolyta from Wonder Woman). Not that Connie was bad in the role, she was great but anything Sela Ward is in, is GOLD (IMO). Sela doesn't replace Connie's character but it's a new character. Go watch. I like it (and even more now with Sela in it)
Upcoming New Shows
11 October 2018

MaryD's Blog

Supergirl
Upcoming WW2 Drama
Helen Hunt to lead WWII drama - Mad About You star Helen Hunt heads the ensemble cast of a newly-announced UK drama World On Fire. The drama by Peter Bowker (The A Word, Occupation, Blackpool) is produced by ITV-owned Mammoth Studios for the BBC. It is described as an adrenalised, emotionally gripping and resonant drama following the first year of World War II told through the intertwining fates of ordinary people drawn from Britain, Poland, France, Germany and the United States as they grapple with the effect of the war on their everyday lives.
10 October 2018

New AUSXIP Site - AUSXIP My Life Is Murder Fan Site
The new site is dedicated to Lucy's new Australian TV Show "My Life Is Murder" which is scheduled to go to air in Australia in 2019.
Stay up to date with the latest news about the show
Batwoman
08 October 2018
Renee O'Connor / On Clover Road

Lucy Lawless (My Life Is Murder)
Hudson Leick

Doctor Who
Supergirl
Star Trek: Discovery
Upcoming
05 October 2018
Xena: Their Courage Changed Our World Book News
Renee O'Connor / On Clover Road
Lucy Lawless
02 October 2018
Xenite Memorial
30 September 2018
MaryD's Blog
Xena Reboot
28 September 2018
Xena: Their Courage Changed Our World News
26 September 2018
Xenite Memorial
Xenite Memorial Update: It is with great sadness that we have lost an Amazon sister: Shawna Headrick has passed away. My condolences go out to her family and her many friends. I will be updating the Xenite Memorial soon. #Xena #XeniteMemorial
Xena

Renee O'Connor

Beyond Xenaverse Cast News

Supergirl
Murphy Brown

Patrick Stewart
22 September 2018
Xena: Their Courage Changed Our World Book News
Coming soon will be a dedicated page related to the upcoming Xena's 25th Anniversary book "Xena: Their Courage Changed Our World" which I announced on 20 September. It will be published by AUSXIP Publishing on September 4, 2018.

Renee O'Connor
Theatre
Interview
20 September 2018
MAJOR ANNOUNCEMENT
AUSXIP Publishing will be publishing a book called XENA: THEIR COURAGE CHANGED OUR WORLD - How Xena: Warrior Princess Changed Lives and Inspired A Generation.
- Basically how this one little show changed YOUR life.
Publication is September 4, 2020 and you will have time to submit your story. It's a book about YOU the fan and the friendships you've made, the life changes that were made etc. 100% of the royalties from this book will be donated to Starship Foundation because the message of this show has been the Greater Good and what better way than to donate to Starship in honour of the show? Are you interested?
You can now submit submit your story http://ausxip.com/news/xena25year/ The book will also have a memorial section for those we have lost over the years.
Battle on and share the news please! Thank you!
Xena's 25th Annivesary is coming up in 2020 and that means Creation may be gearing up for a 25th Anniversary convention

MaryD's Blog
Supergirl
Murphy Brown

Upcoming TV Shows
Movie News
19 September 2018
Supergirl
Doctor Who
Murphy Brown
Greys Anatomy
Emmy Awards
Movies - Captain Marvel
Feast your eyes on this! Yes, when? MARCH 8, 2019!
Higher. Further. Faster. The first teaser trailer for Disney/Marvel's Captain Marvel, the hugely anticipated female-led MCU entry, has dropped. Brie Larson stars as Carol Danvers who becomes one of the universe's most powerful heroes when Earth is caught in the middle of a galactic war between two alien races, and she finds herself and a small cadre of allies at the center of the maelstrom. The film is set for domestic release on March 8, 2019 with overseas rollout beginning two days earlier on March 6. Read More (but watch the video first)
18 September 2018

Supergirl
16 September 2018
Adrienne Wilkinson
Renee O'Connor
On Cover Road (Theatre)

Lucy Lawless
15 September 2018
To everyone in the path of Florence - please stay safe. We are keeping you in our thoughts!
13 September 2018
MaryD on Instagram
Renee O'Connor
"All right this is without a doubt the CUTEST Photo Op EVER.
Lucy and Renee with Little Xena and Little Gabrielle (Lucia's artworks come to life!).
11 September 2018
In memory of those who perished on 9/11 (and to those first responders who heroically went into burning buildings, to the doctors, nurses, police and all the other men and women who assisted).
Little Xena and Gabrielle 9/11 Memorial created by Lucia Nobrega in 2001.
10 September 2018
Renee O'Connor
Upcoming Events
Renee Adopts!
MaryD's Blog
The Holocaust
Mind power in Auschwitz - and healing decades later. Mind power in Auschwitz - and healing decades later. Her mother's wisdom helped Edith Eger create a happy inner life in Auschwitz - but true healing meant going back there. Edith Eger was 16 years old, crammed into a cattle truck, human cargo from Hungary headed for Auschwitz, when her mother gave her the advice that shaped her life. For most of the journey, her mother hadn't said much, hadn't cried or complained, but had instead gone inside herself. "That night," says Eger, "she turned to me and said: 'Listen. We don't know where we're going. We don't know what's going to happen. Just remember, no one can take away from you what you've put in your mind."
I survived the Warsaw ghetto. Here are the lessons I'd like to pass on by Stanisław Aronson. I'm 93, and, as extremism sweeps across Europe, I fear we are doomed to repeat the mistakes which created the Holocaust...
New Movie To Watch Out For...
I was listening to a radio interview on Sydney radio today with Noni Hazelhurst (I LOVE Noni) and she's talking about her new movie "Ladies in Black" which is set in a department store in 1950's Australia. Sounds like a fabulous movie and something I touch on my fiction series as well especially in my latest "Mabel of the Anzacs". Can't wait to see this! Watch the video!
09 September 2018
AUSXIP Charity Auction
Hey guys have a guess what I was doing on the 7th September? It was STARSHIP AUCTION SPREADSHEET TIME! Starship sent over their spreadsheet of payments. We had some issues with the donation form on Starship. It kept crashing. There is a reason the Starship donation form fell over - the Xenaverse crashed another server :) (the donation form was a little iffy lately whether it went through ok or it stalled but we're getting that sorted out BUT apparently, everyone has figured it out) Does this count as a the Xenaverse crashing another server? I'm calling it - we did :)
Good news: $11K of the winning bids have already been donated and we are waiting on the last remained $2K to come in. Saying that Starship is overjoyed by this outcome is an understatement.
Added images of Lucy and Renee in the Q&A
Added images from Social Media
Added video of full Q&A Panel
Added video highlight of ROC and LL singing Deep In The Heart of Texas
Added video highlight of Lucy doing the Xena Yell
Added video highlight of LL and ROC being asked About Being The Better You

MaryD's Blog
New Art: A Special Someone To Grow Old With…
Sep 9, 2018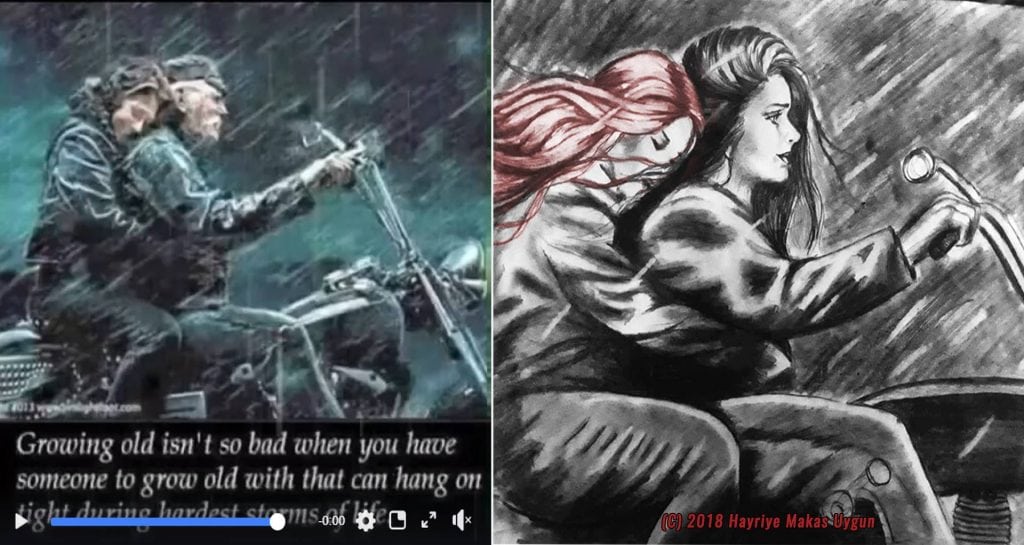 A few days ago I saw this amazing photo of an older couple - a man and his girl on a bike with the words:

"Growing old isn't so bad when you have someone to grow old with that can hang on tight during hardest storms of life."

The words moved me and I mentioned to my book club group that I would love to see something like that for my characters of Eva and Zoe. You know what they say about putting it out in the universe. Well my friend Hayriye Makas Uygun decided to surprise me and create an Eva and Zoe version!

I LOVED THIS so much. May you have that special someone to grow old with who hangs on tight even through the hardest of times.
08 September 2018
I'm going to let the following tweets from my ausxip and lucylawlessnet accounts do all the talking.... heh
#ReneeOConnor wins the internet today and the #Xenaverse melts. Here she is at the Salt Lake City Comic Con teaching a young fan how to hold a sai. Yeah. Images courtesy of Heroes for Hire Instagram account: https://t.co/Ez1gtwt996 #Xena #SaltLakeComicCon pic.twitter.com/uQNTc2uDdl

— AUSXIP Network (@ausxip) September 8, 2018
#Xena Lives - Lucy Lawless wears her iconic Xena face and doesn't it make you want to wish for a #XenaMovie or #XenaRevival - photo is from Epic Photo Ops at the Canadian fan Expo con last weekend. That face reminded me of the Xena face in the Xena pic pic.twitter.com/eIZ8MSTLoT

— AUSXIP Lucy Lawless (@lucylawlessnet) September 8, 2018
06 September 2018
Renee O'Connor
Renee has posted on her Instagram account that this new theatre show is "edgy"

Convention Update
Lucy and Renee attended FanExpo in Canada and I'm WAY behind in the images/video roundup due to the Auction. Will be posting images/video soon.
There next stop is FanX Salt Lake City Comic Con on September 6 to 8, 2018. Tickets for Photo Ops, Q&A and Autographs are here:
Xena Cast News
05 September 2018
I have updated the Xenite Memorial to include Baermer.

04 September 2018
Happy Xenaversary everyone!!!
Auction Update:

With the support of the Xenaverse, actors such as Renee O'Connor, Lucy Lawless, Adrienne Wilkinson and many others, we have raised (tentative total, not counting any additional donations) $13,293.97 NZD. That brings our combined total for all auctions held since 2006 to $198,293!
Just an amazing number. Xena's legacy has been to help others and to do it for the Greater Good. On her 23rd Anniversary, the Xenaverse has come together and created something special. Without your support, this auction would not have gotten off the ground in 2006 and continued since then.
I have informed Starship that a whole lot of money is heading their way! THANK YOU everyone who supported, who bid and who won! BLESS YOU ALL!
Thank you also goes to my team who are EXTRAORDINARY. Without them, it would be impossible to have this auction.

HAPPY BIRTHDAY TO OUR WARRIOR AND HER BARD! 23 Years ago a show was born and changed our lives!
I will have more to say about this once the Starship Auction is over....
The 11th AUSXIP Starship Charity Auction is ENDING in a few hours!
How is everyone on #Xena's 23 year Anniversary? Today in honor of Xena's birthday we continue one of Xena's enduring legacies - #TheGreaterGood the AUSXIP Charity Auction ends in a couple of hours! Battle on Xenites! Hail to our Warrior and her (Warrior) Bard! pic.twitter.com/rWz9d5roAE

— AUSXIP Network (@ausxip) September 4, 2018
03 September 2018
The 11th AUSXIP Starship Charity Auction is ENDING tomorrow!
Xenite Memorial
It is with great sadness I report that we have lost an Amazon sister. Baermer, creator of some of the most extraordinary stories and awesome lady has unexpectedly has passed away. I will be updating the Xenite Memorial soon.
It is great sadness I report that we lost another one of our Amazon sisters. Baermer has passed away. Her work can be found on AUSXIP https://t.co/I2B8RU4LMx - I will be updating the Xenite Memorial Soon. In honor of Baermer, I give you Xena's Burial song. pic.twitter.com/x3s2QxX2id

— AUSXIP Network (@ausxip) September 4, 2018
01 September 2018
The 11th AUSXIP Starship Charity Auction is now LIVE!
100% of money raised goes directly to Starship. Let's raise a hell of a lot of money for Starship!
Thank you for all your support.
You have 4 days to bid on 324 items - if you don't want to bid but want to be a part of the auction, we have donation only bids starting from $5 Check out the auction categories!
Register here: http://charity.ausxip.com/register
and if you still have questions about the auction Contact MaryD
---